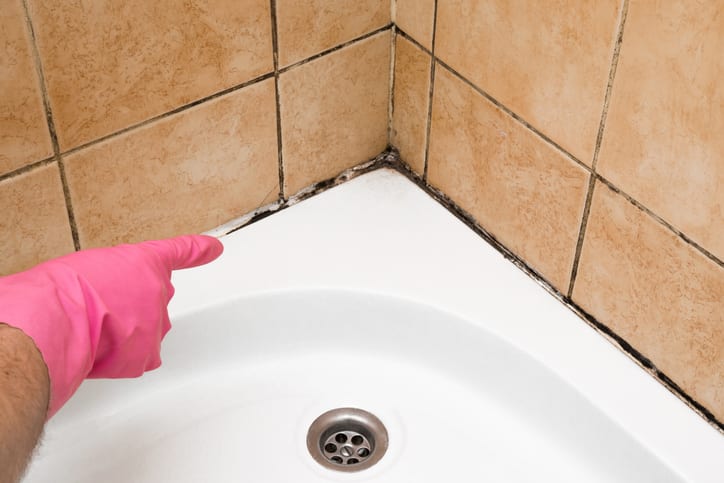 If you've got mold and mildew in your bathroom, you know what a problem that can be. Not only are they disgusting, but these fungi are also persistent, sticking around anywhere there's moisture. Since you can't avoid moisture in your bathroom shower, it's good to know how to give bathroom mildew and mold their walking papers.
First, do you know the difference between mold and mildew? Most of us use the term interchangeably, which is reasonable because they're both fungi that live in warm, moist places. Mildew is lighter in color, usually gray, yellow, or white, and often looks fluffy or powdery. You're likely to find it on fabric or paper, or on the walls and ceiling of your bathroom. Mildew is less destructive than mold, and will often succumb to your efforts with just some household cleaner and a good scrubbing.
Mold, on the other hand, is hard to kill. What's more, it's dangerous and has the power to decimate entire structures if left to its own devices. For a serious mold problem, you'll need to call in a professional. You can nip it in the bud, however, using a few different cleaning options.
• Borax is a natural fungicide and insecticide. Found in the laundry section of grocery stores, it's a white mineral powder that doesn't release toxic fumes. To clean mold and mildew, mix a cup of Borax with a gallon of water, pouring the solution into a spray bottle and spraying it onto the surface that needs to be cleaned. There's no need to rinse it off because Borax can keep additional mold from growing when left on the surface.
• Vinegar is another good natural cleaner. There's no need to dilute it, and if the smell bothers you, you can turn on a fan or open a window. It will dissipate within a couple of hours.
• Bleach is a hotly debated option for mold removal. Some say it kills mold, but many experts assert that it only removes the stain. What's more, bleach is caustic and can cause eye, lung, and skin irritation.
• Whatever cleaner you choose, use the right cleaning method. Try not to scrape mold, to avoid spreading the spores. Wipe it with a cloth, using a scrub brush for stubborn stains, and drying thoroughly afterward with a dry cloth, to keep the fungus from coming back.
When it comes to keeping your bathroom mold and mildew free, prevention is the best protection. Keeping your bathroom clean and dry will help prevent mold and mildew from growing, so clean any water as soon as possible, and scrub all your surfaces regularly. Make sure you're cleaning only the fixtures, but also the items that rest on them, like soap and shampoo bottles. Pay special attention to your grout and caulk, cleaning them regularly and re-caulking as necessary. Use your exhaust fan to pull moisture out of your bathroom. If you've got a leak, call in a professional to make sure it's fixed correctly and won't cause damage or promote the growth of mold and mildew.
If you've got leaks, it's good to have a professional on call to get them fixed promptly. At Puget Sound Plumbing and Heating, we've been taking care of business owners and homeowners in Seattle for over 20 years, and we can meet all your heating, cooling and plumbing needs. Our team is well equipped to repair and service every part of your plumbing, including sewer lines, water heaters, leaky faucets, clogged sinks, and more. Family owned and operated, we provide superior service at affordable prices because our customers are our top priority. For help with your plumbing 24 hours a day, seven days a week, call (206) 350-0079 or contact us through our website.