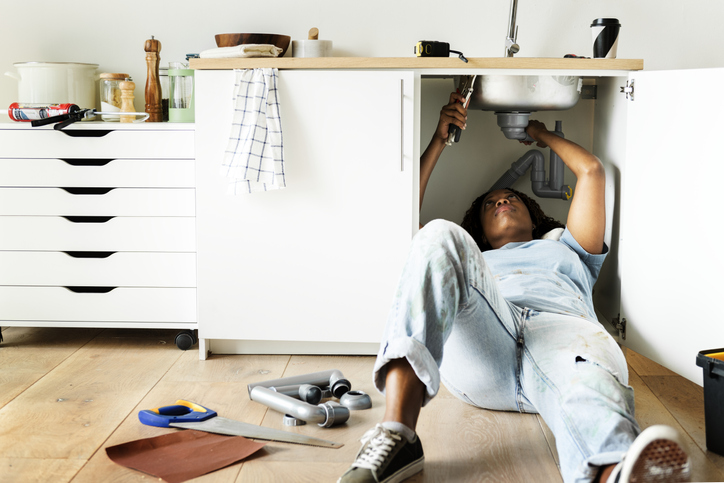 Your plumbing is a powerful system in your home. It makes up about 15 percent of your home's value! It's wise to keep it running smoothly, to protect your investment. A well-maintained plumbing system is efficient, providing clean, freshwater. Clean water is essential to your health and well-being, so it pays to keep up with the maintenance. Here's a handy checklist to help you care for your plumbing.
Daily:
In the kitchen: Prevent clogs by keeping grease and oils out of the drain. Always turn the water on before you put any food in the garbage disposal, and never use it for stringy or fibrous foods. Keep the water running for at least 15 seconds after you've stopped using it to make sure the food waste goes down the mainline. Run the dishwasher at night to conserve hot water during the day.
In the bathroom: Limit bath oils and install screens over your drains to keep hair out of them. Don't use your toilet as a trash can: only flush human waste and toilet paper. Things like facial tissue, tampons, and flushable wipes are better off thrown away. Wait 10 minutes between showers to help maintain good water pressure and help prevent undue stress to your system. Avoid chemical clog removal products.
Weekly:
Check for leaks. Common places for leaks are the pipe valves, faucets, toilet flappers, showerheads, and pipe fittings. Look for signs of moisture under the sinks, including water, mold growth, or a musty smell.
Test drains for speed of drainage. Water going down a slow drain will have bubbles on the surface.
Check all faucets. Make sure water doesn't leak from the handles or valves.
Seasonally:
Spring: Check for slow leaks and leaky pipes. Check drains you don't use much. Check your water-using appliances for damage. Make sure your toilet tank isn't leaking. Clean gutters and downspouts, check for birds' nests in plumbing vents and turn on outdoor spigots to check for leaks.
Summer: Have your septic tank inspected and serviced if necessary. Water wisely, conserving water by using mulch and leaving grass fairly tall.
Autumn: Prepare for winter by shutting off outdoor spigots and disconnecting hoses, checking outdoor faucets for leaks, and insulating pipes.
Winter: Keep pipes from freezing by insulating them and using each one regularly. Allow warm air to circulate throughout your entire house and don't close off rooms. When temperatures fall, leave cabinet doors open and let the water trickle from the faucets.
Even the best-maintained systems sometimes run into trouble. If you've got a plumbing problem, trust Puget Sound Plumbing to do the job right. For over 20 years, we've been taking care of business owners and homeowners in Seattle, and we'll meet all your heating, cooling, and plumbing needs. Family-owned-and-operated, we provide superior service at affordable prices because our customers are our top priority. For plumbing help 24/7, call (206) 350-0079 or contact us through our website.