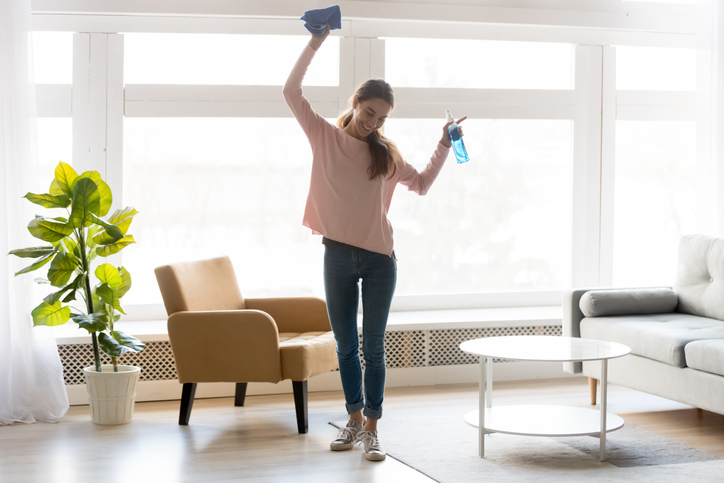 Spring is on the way, and it's a great time of year to give your house a refresh. Spring cleaning is a time-honored tradition, and performing home maintenance in the spring helps keep your house in good shape. Winter storms can take their toll: it's smart to do home repair projects after the harsh winter weather has passed and before the heat of summer becomes intense. Having spring cleaning and maintenance checklists will help you stay on track while you knock out some important tasks.
To get your house truly clean, use this spring cleaning checklist:
Deal with the dirtiest first. Dust from the top-down, clearing shelves first and remembering hard-to-reach areas, then clean what settles on the floor. In the bathrooms, let the cleaner sit in the toilet bowl and tub or shower while you wipe the sink and counters. In the kitchen, start with the stove.
Work on the windows. Clean window treatments. Wash your windows, removing dust, dirt, and cobwebs with a soft brush before washing windows inside and out.
Move on to your refrigerator and freezer. Discard spoiled food, put the rest in a cooler, and wash the fridge and freezer with warm, soapy water.
Clean the floors. Vacuum, then wash or dry clean area rugs and shampoo wall-to-wall carpeting. Wash hard floors.
Freshen the furniture. Take cushions outside and beat out dust, then look for stains, treating as the care label indicates. Use a vacuum to clean under the seat cushions.
Wipe the walls. Use a degreaser for particularly stubborn grime.
Once your house is clean, you'll need this spring maintenance checklist:
Get on the roof. Inspect your roof for missing, loose, or damaged shingles. While you're up there, remove leaves and debris from your gutters. Check your chimney for damage, then go inside and check it from the fireplace.
Continue outdoor maintenance: Clean the screens, check your deck and fence and make any necessary repairs. Power-wash windows and siding, and have a professional inspect the septic tank. Fertilize your lawn.
Re-caulk as needed. Your sink, shower, and bath caulking may need a refresh, and the caulking and weather stripping around your windows and doors may need to be repaired or replaced.
Tend to your appliances. Change your heater and air conditioner filters: this should be done monthly. Vacuum lint from the dryer vent, drain and flush your water heater, and have a professional service the air conditioning system.
If you're looking for someone to service your heater and air conditioner, you can trust Puget Sound Plumbing and Heating. For more than 20 years we've been taking care of business owners and homeowners in Seattle, and we can meet all your heating, cooling and plumbing needs. Family owned and operated, we provide superior service at affordable prices because our customers are our top priority. For help with your plumbing 24 hours a day, seven days a week, call (206) 350-0079 or contact us through our website.