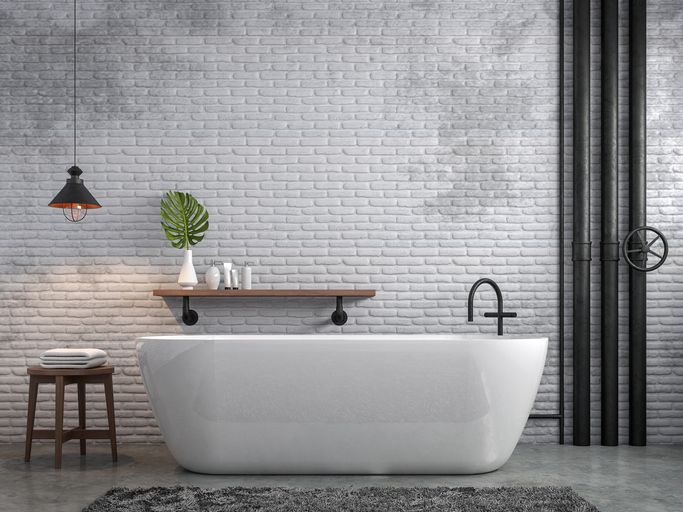 Are you considering remodeling your bathroom? You may be hoping to modernize the space, decrease clutter, improve efficiency, and help you enjoy your time in the bathroom more. Here are eight things you should know before embarking on your renovation project.
Bathroom remodeling costs can vary widely. The first step is to receive estimates for the bathroom remodel you have in mind. Decide how much you're willing to spend and figure out if any compromises are necessary to keep your bathroom renovation within budget.
Discreet toilet placement is best. A stylish and functional master bathroom looks its best if the toilet is out of sight. If you have enough square footage, consider building a water closet to shut the toilet off from the rest of the space.
Good lighting is essential. The bathroom is where you prepare to look your best every day. Upgrade the dimly lit space with a combination of overhead, task, and ambient lighting. This helps eliminate shadows from your face when looking in the mirror and gives you the option of dimming the lights when you want to create a spa-like retreat.
Adding a double vanity is a popular choice. To make your bathroom more shareable, you may be interested in putting in a second sink. Be aware that this requires a significant plumbing addition, but it's usually well worth the upgrade, especially in the master bathroom.
The shower is the place to splurge. Enjoy a luxurious experience every time you shower by focusing your investment here. Options include his-and-her showerheads, body sprays, steam generators, and more. Also, if you never take baths, consider converting the tub/shower combination into a spacious walk-in shower.
Keeping the existing layout is the most cost-effective option. You may have your heart set on moving the toilet or relocating the shower. Just be aware that these design decisions require you to reroute the plumbing. If you're on a budget, work with the pipes where they are, and focus on upgrading fixtures and finishes.
Efficiency and luxury can go hand-in-hand. When shopping for new showerheads, faucets, and toilets, don't just consider their appearance and lavishness—keep water consumption in mind as well. Low-flow fixtures can still be luxurious, and they decrease your water bills at the same time.
Ample storage helps you maintain a less cluttered appearance. You may like the way a pedestal sink looks, but where will you store your toiletries, towels, and cleaning supplies? Make sure your bathroom redesign includes practical shelves, cabinets, drawers, and towel racks to keep the counter free of clutter.
Puget Sound Plumbing & Heating helps Seattle-area homeowners with the plumbing aspects of their bathroom renovations. Over the past 20 years, we have developed a reputation for delivering top-notch services at competitive prices. Your satisfaction is our top priority, which is why we guarantee all the work we do!
To schedule plumbing services or request a quote for your upcoming project, please contact us at (206) 350-0079.