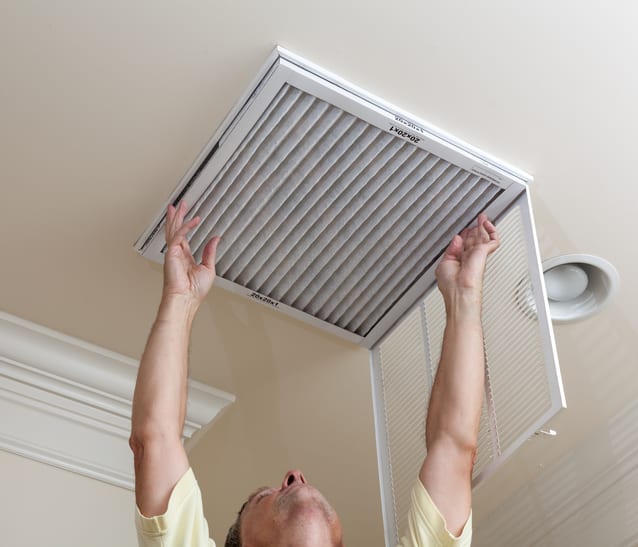 Homeownership requires so many small maintenance tasks that sometimes it's hard to keep up with them all. Maintaining your heating and cooling system is something that requires occasional attention from a professional, but some things, like changing your air filter, are easy to do on your own. It can be confusing, though, to know how often it should be done. How do you know when it's time to change your air filter?
A trip to the hardware store can often confuse the issue even further. Some filters are made to last a month, others say they should be changed every three months, and some claim to be good for six months or even a year. In truth, how often you change your air filter depends on several factors.
First, you must determine what type of filter your system requires. Turn your air conditioner off and take out the old filter, measuring it carefully to decide what size you will need. Air filters are measured length by width by depth, so the package you see in the store might say something like 18x20x1. To get an accurate measurement, put the filter flat on the ground and measure it top-to-bottom, left-to-right, and front-to-back. You might not get a round number, but that's fine because air filters are not always an exact size. If your measurements are slightly larger than those on the package, the air filter will still work. Most of the time, if your air filter is between one and three inches deep, the manufacturer will recommend that you change it every other month.
How much you use your air conditioner matters. If you live in a temperate climate and you don't run your HVAC very much, you can probably get away with changing the filter infrequently. On the other hand, if you live somewhere that requires constant air conditioning or heating, you'll want to change it every few weeks.
Your home's overall air quality is a factor in how often you need to change the filter. If your allergies are acting up, or the air doesn't seem to be circulating well, it's probably time to change the filter. If you smoke, expect to change the filter every month.
If you have pets, you'll need to change your filter more often. Unless your pets are all fish, you probably have fur, feathers, dander, or some combination of those things, floating around your house. These things all get sucked into your air conditioning system and clog up your filter, so in homes with pets, the filter should be changed more frequently. For a home with one person and one pet, 60 days should be sufficient, but if there are multiple pets, you should change it every 30 days.
Living in a polluted area has an impact on your air filter. Is the air quality in your neighborhood bad, or is there construction in the area? You may need to change your air filter more often than if you lived somewhere with cleaner air. Pay attention to how the outdoor air quality is affecting the air indoors, and check your filter to see if it looks clogged or dirty.
Changing an air filter is easy to do, but for more serious air conditioning issues, you need to call in a professional. At Puget Sound Plumbing and Heating, we've been taking care of business owners and homeowners in Seattle for over 20 years, and we can meet all your heating, cooling and plumbing needs. Family owned and operated, we provide superior service at affordable prices because our customers are our top priority. For help with your A/C unit 24 hours a day, seven days a week, call (206) 350-0079 or visit our website.