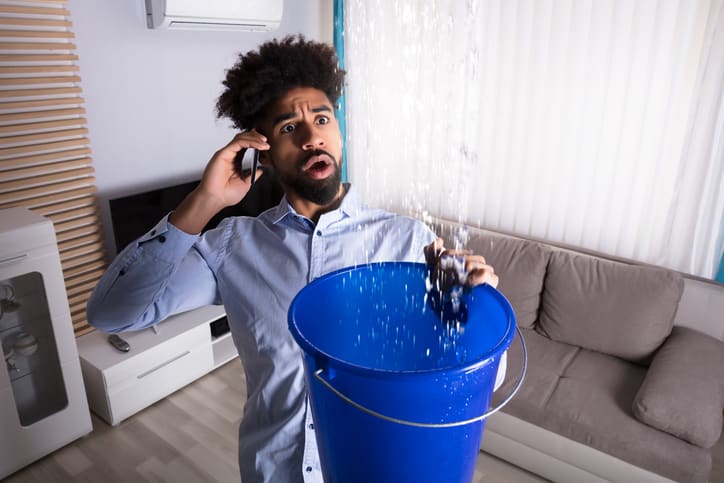 Are you equipped to deal with a plumbing emergency? It's good to know how to handle basic plumbing problems, and being prepared can keep a minor issue from turning into a major hassle. It's also smart to know where problems are likely to arise, so you can prevent them before they even start.
Assemble a plumbing emergency bucket. Into a five gallon bucket, put tools you'll probably need in a plumbing emergency. These include a forced cup and regular plunger, a pair of medium-sized joint pliers, an adjustable wrench, a multi-bit screwdriver, an assortment of Allen keys, duct tape, leaks sealing tape, a variety of blind caps, and heavy-duty paper towels or rags.
Be aware of potential problems. Keep your plumbing well-maintained, regularly inspecting things like hoses and valves, including your washing machine hose, to make sure everything is in good working order, and fixing leaks as soon as you discover them. Turn off your water if you're going on vacation, to avoid pressure building up while you're away. Regularly inspect your water heater for signs of wear. Periodically flush your kitchen drain with boiling water to remove buildup. Keep a trash can in every bathroom, and remind people not to flush trash down the toilet. Even small things like cotton swabs and tissues can cause big problems with your plumbing.
Know what to do in an emergency.

Shut it down. Know where your main shut-off valve is, and know how to turn off your water heater. It's also smart to be familiar with the isolation valves for each fixture and turn them on and off periodically to make sure they're in good working order. If there's a flood inside your home, and you've shut off the main water supply, turn on the outside spigots to direct any additional water out of the house.
Stop the leaks. Duct tape or leak tape can hold a cracked pipe together for a temporary solution to a leak. The five-gallon bucket can catch water and prevent it from damaging your home.
Get rid of clogs. If water seems to be backing up from a drain or toilet, see if you can remove the clog. If you've got a clog in your kitchen sink, use two plungers: covering one drain while you're plunging the other. If your bathtub drain is clogged, remove the chrome cap to expose the drain before plunging. Use a forced cup plunger to unclog a toilet.
Call for help. Don't hesitate to call someone to assist you in an emergency. If the problem seems to be with the main water line or a blocked sewer, you can call the water company and they'll send a plumber right away.
It's good to be prepared for an emergency, and if your plumbing has a problem that's beyond your capability, it's also good to have a professional on call. At Puget Sound Plumbing and Heating, we've been taking care of business owners and homeowners in Seattle for over 20 years, and we can meet all your heating, cooling and plumbing needs. Family owned and operated, we provide superior service at affordable prices because our customers are our top priority. For help with your plumbing 24 hours a day, seven days a week, call (206) 350-0079 or contact us through our website.