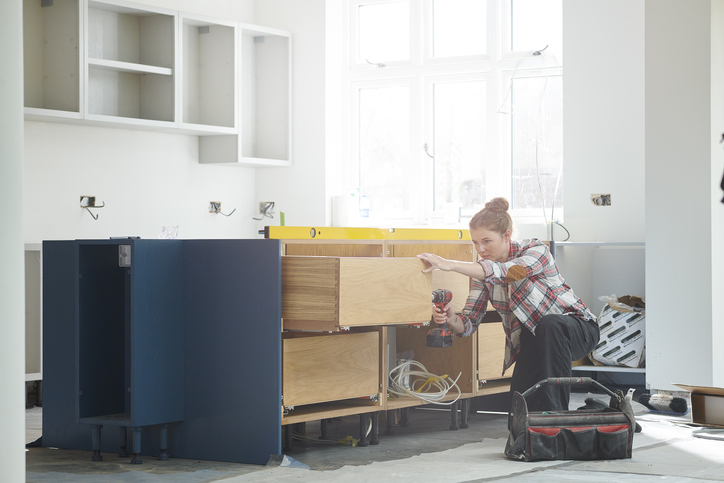 Are you planning to remodel your kitchen? It's a smart move because even minor kitchen renovations pay off with a significant return on investment when it's time to sell the house. What's more, the right kitchen remodeling job can make your kitchen much more enjoyable for you to use. Ready to get started? It's essential to have a plan before you begin.
Do some browsing before you dive in. Visit a home improvement store or two to assess what's available, and look through some remodeling magazines to get ideas. If you're not creating an entirely new kitchen from scratch, try not to deviate too drastically from the style your kitchen already has, because you don't want to have a design that conflicts with itself. If your budget permits, you may want to hire a kitchen designer to help you with the planning. You'll also want to buy all your supplies in advance, including cabinetry, appliances, flooring, lighting fixtures, sink, faucet, tiles, baseboards, and paint. Look into regulations in your area, to determine if you need building permits for your project.
The first step in remodeling is taking the kitchen apart. Take off the cabinet doors, and if you're going to take down the cabinets, make sure you have a plan for supporting them while you remove the screws holding them to the wall. Remove doorway and window trim, being careful with them if you plan to reuse them, and shut off the power, covering any exposed wires with wire nuts. If you're removing sheets of paneling from the walls, use a crowbar, and be cautious with your use of a sledgehammer, taking care not to disturb the studs.
Hire the right help. You can either hire a general contractor or hire workers yourself, but make sure whoever you hire has the proper credentials. The workers you need for your kitchen remodel might include an electrician, a plumber, an HVAC contractor, a drywaller, a painter, and a flooring or tile installer, as well as a demolition crew. If you hire a contractor, that person will oversee the other workers but may charge as much as 30 percent of your total cost to handle that for you. Vet whomever you do hire, making sure they're licensed and have a good reputation. And if you hire contractors, make sure they're licensed, bonded, and insured. Determine a payment plan ahead of time. In a typical arrangement, the homeowner pays only ten percent upfront, 50 percent halfway through the job, and the remainder when it's complete.
While you've got your walls open, it's the perfect time to update plumbing and wiring. Call in a plumber to replace old plumbing and perhaps run a new gas line. Be aware that your shutoff valves might also need replacing. If you're putting in new light fixtures, check to make sure of any requirements from the city code department regarding your options, or hire a knowledgeable electrician to do the job for you. While you've got the electrician's ear, ask if upgrading your circuit box is necessary and if you need to replace all the wiring. Your different appliances must have their own dedicated circuits.
Will you hang your own drywall? It's very easy to hang drywall, and it can be done as soon as the electrician and plumber are finished with their tasks. To do this job, you'll need 4 x 8-foot sheets of drywall, a utility knife with plenty of blades, a T-square, a drywall gun, drywall screws, mudding knives, and a pencil. You'll measure from the corner to the first stud within 48 inches, transferring the measurement to the drywall and drawing a straight line with the help of the T-square. Still using the T-square, cut along the; we. Crack the drywall to break it along the line, and secure it to the wall with screws. Put finished edges with finished edges, and unfinished edges with unfinished edges. Once you've got it on the wall, it will be time for mudding, but this is not as easy as hanging drywall, so you might want to leave it to the professionals.
Painting is another job you can do yourself, but might not want to do. If you hire a painter, you'll discover that the job goes much more quickly than if you do it yourself. You'll need the walls and ceiling painted before the cabinets can be rehung, and it might be smart to do the flooring before the cabinets, too. You can't put the cabinets back up until the plumber and electrician are finished. Then, once your countertops and backsplash are in place, you'll want to call the plumber and electrician back in to install the appliances.
When you need a professional, experienced plumber, you can trust Puget Sound to get the job done right. At Puget Sound Plumbing and Heating, we've been taking care of business owners and homeowners in Seattle for over 20 years, and we can meet all your heating, cooling and plumbing needs. Our team is well equipped to repair and service every part of your plumbing, including sewer lines, water heaters, leaky faucets, clogged sinks, and more. Family owned and operated; we provide superior service at affordable prices because our customers are our top priority. For help with your plumbing 24 hours a day, seven days a week, call (206) 350-0079 or contact us through our website.